Johnny Manziel 2014 Scouting Report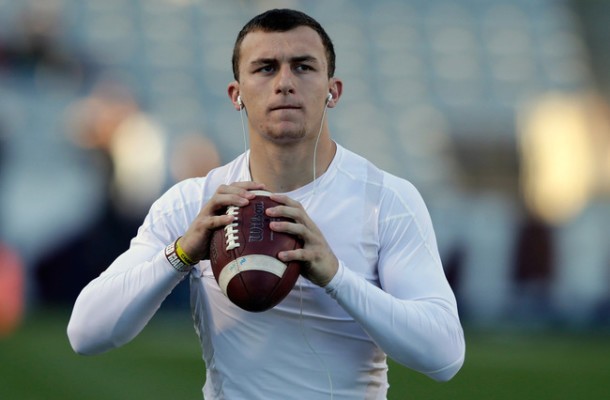 In the first scouting report of many, we are going to take a look at Texas A&M Sophomore Quarterback Johnny Manziel.
Manziel made waves as he was the youngest player to ever win the Heisman Trophy after his 2012 season. That monster season included over 1000 yards and 20 touchdowns running, as well as over 3700 yards passing along with 21 passing touchdowns.
Pros:
-Johnny Football is a great athlete. Long with football, he also plays golf and baseball at a NCAA Division I level.
-Due to being a multi-sport athlete, he understands angles well. You can see this when he runs and makes cuts to elude defenders.
-Johnny Manziel throws the ball with great velocity as well. This is the part of his game that will surprise most. Arm strength is more than adequate and will only get better.
Cons:

-Tends to lose his footwork when throwing on the run. Could use some work on footwork as a whole.
-He's not your prototypical height at 6'1 however, he is the exact same height and weight as Michael Vick.
-Accuracy can improve
-Lives a colorful life off the field. Is he already too famous? Will he stay focused? Tweets are focused too much on his "haters." Can he put the extra stuff aside as a pro?
Outlook:
-Top 10 pick in the 2014 NFL Draft.
-Will be the first, second, or third passer taken.
-Will start as a rookie for his professional team.
-Needs to stay out of trouble, and likely will once he becomes a professional.