Star Lotuleli Pulled Out of NFL Combine Due to Heart Condition
Updated: February 24, 2013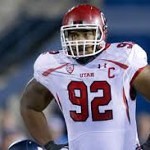 This is a big blow to the draft stock of Star Lotuleli. While going through the combine process, it was found that Star has a heart condition and will be held out of physical activity going forward.
Lotulelei was discovered to have an abnormally low Ejection Fraction, detecting that the left ventricle of his heart was pumping at only 44 percent efficiency, sources said. The normal range is between 55-70 percent efficiency.

The 6-foot-2, 311-pound Lotulelei will undergo further testing in Salt Lake City in an effort to seek more clarity with the condition, a source said. If it's a confirmed chronic condition, medical experts consider it an indication of possible heart damage.

-ESPN
Teams generally leave things like this up to their medical staffs. Some will clear Star on their draft boards, and others will likely red flag him or take him off their board all together. It is going to be interesting to see what happens going forward.
Star is considered a top three selection and we currently have him going third in our latest projection. If the medical red flag is serious things could project quite differently in the weeks ahead. We'll keep you updated.