2013 NFL Mock Draft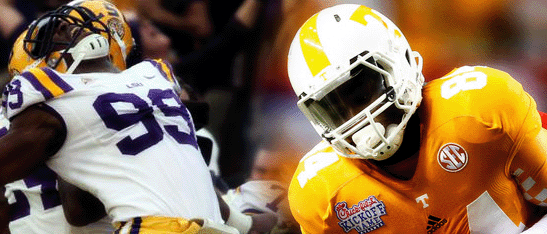 As we get closer and closer to the 2013 draft, check back to this page to get the latest updates. For previous mocks check out the links at the bottom of this page. For up-to-the-minute updates follow us on Twitter.
Questions? Concerns? Email a player.
On to the mockness:
Final Update- April 24th, 2013
1. Chiefs: Luke Joeckel OT Texas AM
There are many directions the Chiefs can go but at the end of the day it will come down to how much does Andy Reid want Geno Smith. Now that the Chiefs have cut Eric Winston and signed Alex Smith, Luke makes the most sense.
2. Jaguars: Eric Fisher OT Central Michigan
No matter who ends up on the the top of the board, the Jaguars must select the best player available. Fisher would provide insurance in the event the Jaguars cannot retain Eugene Monroe. When one of the top guys is the BPA and fills a need there is simply no way I see them messing this pick up.
3. Raiders: Sharrif Floyd DT Florida
Remind me again, why are the Raiders always picking high in the draft? Despite the great talent in their backfield and talented receivers the Raiders have issues all on the defensive front. Richard Seymour is not going to be welcomed back and nor will Tommy Kelly. It's time to change the culture and select a big defender to replace one of those veterans of years past.
4. Eagles: Dion Jordan DE Oregon
When the Eagles released Jason Babin one thing became clear: the dream team era was over. No more spending big money on free agents. If you cannot help this team win, you are going to be playing somewhere else.
This team has smartly filled most of it's defensive needs through young veterans who have yet to hit their prime like Conner Barwin. To my eye that means that this pick will be used on a premium position, not a cornerback. Dion Jordan is one of the best players in the draft, has a huge ceiling, and a personal cheerleader in the War Room who just happens to but the guy in this draft who knows him most. Chip Kelly the offensive guru… with the first swerve of the draft as he selects a defensive end/linebacker.
5. Lions: Ezekiel Ansah DE BYU
The Lions worked with Ansah at the Senior Bowl and came away very impressed. Despite 4.5 career sacks, the athletic freak from Ghana is going HIGH in this draft. Only question is… can Detroit trade back a little and still get him without tipping their hand?
6. Browns: Demarcus Milliner CB Alabama
Demarcus grades out a shade higher than current starting CB Joe Haden. Milliner is already on record as saying he actually WANTS to play for the Browns and with Haden.
7. Cardinals: Lane Johnson OT Oklahoma
The Cardinals don't actually need Lane Johnson but he is the highest rated player and would help boost the line. Johnson has played all along the line at Oklahoma (even as a blocking tight end) so there are no limitations on how he would be used if he goes here.
8. Bills: Ryan Nassib QB Syracuse
There is no way Doug Marrone is leaving this draft without Ryan Nassib, period. They've worked with him for three years and the kid literally lives two hours away from your facility.
Selecting Nassib (a) allows Marrone to hit the ground running (b) fulfills Buddy Nix's thirst for a new passer.
9. Jets: Barkevious Mingo OLB LSU
If I did a top 100 board, there is a good chance Mingo would be in the top 3. Before the season many were mocking him in the #1 spot. Aaron Maybin had a small resurgence to his career but it's time to move on and find the real pass rusher of this defense.
10. Titans: Chance Warmack OG Alabama
Chris Johnson aired his grievances on twitter, and I think the team is going to listen. There is no way you pay a guy what Tennessee is about to pay Johnson in 2013-2014 and don't listen to him. CJ wants some help, CJ gets some help.
11. Chargers: DJ Fluker OT Alabama
The Chargers need to upgrade this offense for Mike McCoy to work his magic. Philip Rivers might be on his last leg, but I think they will squeeze what juice is left out of the Rivers-Gates combo and let Fluker block upfront. There is a good chance Fluker will ultimately become the best player to come from this draft. As a right tackle, he is truly a once in a decade or two type of prospect.
12. Dolphins: Xavier Rhodes CB Florida State
The Dolphins went into free agency looking to add some talent to their receiving corps. Now that Mike Wallace and Hartline have been paid, its time to replace Vontae Davis AND Sean Smith. Rhodes is the start of a rebuild at DB.
13. Jets: Tavon Austin WR West Virginia
Surprise, surprise. I believe all of the DJ Hayden talk to the Jets is a smokescreen. There is no need for Rex Ryan to make a public display of support and fly all the way to Houston if they are actually going to take Hayden. The pick is Tavon Austin.
2014 will be the year the Jets replace Sanchez either with a player they draft later in this draft or with a high first round pick then. Tavon Austin is the quickest player to ever enter the draft process and if there is ANY team that needs an explosive element it's New York. The cupboard is barren and their new QB of the future needs to have a fighting chance.
14. Panthers: Kenny Vaccaro S Texas
I'm glad the draftniks are starting to come around on this pick. Sadly I get all 16 Panthers games a year and that has meant 16 games of watching Hakori Nakumara do a lot of whiffing.
DT is always in play depending on how much Carolina likes the idea of trying to draft this position highly again after so many busts. Vaccaro get the nod.
15. Saints: Star Lotulelei DT Utah
Star drops oddly because of the run on offensive tackles, not his heart concerns. He is still worthy of a top 15 selection as nothing outside of his heart would hamper his stock. The Saints need to give Bunkley/Hicks some help and Star is the guy.
16. Rams: Cordarrelle Patterson WR Tennessee
Cordarrelle Patterson is the ultimate boom or bust type pick, but if there is an offense he can thrive in it just may be St. Louis. He is a player that has been described as "a running back once he has the ball" and the Rams oddly enough had a similar player in Danny Amendola who they got the ball to with a lot of screens. Not to mention Patterson also fills the void at returner as well.
17. Steelers: Jarvis Jones OLB Georgia
The Steelers let James Harrison go and there are internal questions about Lamaar Woodley's effort. Whether or not those questions are warranted or not, there is a need for a pass rusher in Pittsburgh.
Jones did not test well but neither does James Harrison. The Steelers are a smart organization that won't put a lot of stock into isolation drills and value playing experience over pretty numbers.
18. Cowboys: Jonathan Cooper OG North Carolina
Dallas came up short once again but it wasn't really Tony Romo's fault. This team is in dire need of a running back and a search party may be going out for Miles Austin pretty soon.
There isn't anyone Dallas could select here that would be marginally better than Doug Free so the attention is better placed inside of the line. Romo has the big money, now two first round picks on the line. Can he get it done?
19. Giants: DJ Hayden CB Houston
Initally I mocked defensive tackles going to Big Blue, but it looks as if they have MUCH greater needs on the outside. Aaron Ross, Prince Amukamara, and Corey Webster don't strike fear into opposing offenses.
DJ Hayden is a great prospect at 6'0, 190 lbs with great speed (ran sub 4.5) If he checks out medically the Giants absolutely HAVE to pick him- HAVE TO. They cannot afford to pass on a corner with his size, physicality, and potential.
20. Bears: Tyler Eifert TE Notre Dame
Cutler and crew have to get it done and the best way to do that is to help your quarterback. Now that the offensive line has been sured up in free agency it's time to move down the line to the tight end spot. Eifert is getting late top 15 buzz but won't be picked due to the run on offensive tackles and defensive players. If he's here the Bears select him.
21. Bengals: Jonathan Cyprien S Florida Atlantic
The Bengals need a safety in the worst way and Cyprien may be who they opt for. It is likely that Cyprien is also on Baltimore's radar so this pick also keeps him out of the hands of a division rival.
22. Rams: Alec Ogletree ILB Georgia
The Rams would like to add another linebacker, and just as well keep one away from the Bears. Ogletree would be a candidate for the Bears if he lasts until round two but in this scenario he does not.
23. Vikings: Bjoern Werner DE Florida State
Kevin Williams and Jared Allen are only getting older. The Vikings would do well to draft someone now, so he can train with Jared Allen and pick up all of the jewels from him while Allen's still around.
**SIDE NOTE** I've heard some crazy rumors about EJ Manuel going with one of Minnesota's selections but I seriously doubt this front office would do that to Christian Ponder. Could you imagine what that would do to his psyche to see Manuel replace him- again?!
24. Colts: Sheldon Richardson DT Missouri
With the loss of Freeny this 3-4 front is void of another talent when the talent level was already questionable to begin. This unit got banged up and exposed during their short playoff run, a talent like Sheldon Richardson could give them a big boost.
25. Vikings: DeAndre Hopkins WR Clemson
Greg Jennings is coming over from the Packers but Jennings alone will not turn this unit into a feared one. If Hopkins can clean up his route running a little the Vikings may have something special here. He's not the fastest guy but he has a knack for making really tough grabs and moving the chains.
26. Packers: Datone Jones DE UCLA
Clay Matthews is now among the league's highest paid defenders. That means that the Packers are going to do all they can to keep defenders off him and let him work. Datone Jones will provide that and also some flexibility with moving around BJ Raji and Jerel Worthy.
27. Texans: Robert Woods WR USC
For years they have been at the door knocking… can Shaub finally kick the door down like Joe Flacco? Upgrade his WR corps and it may happen. Robert Woods is not the flashy pick, he isn't the pick the fans want, but he is the player the Texans need. What does he do? Nothing but make tough grabs over the middle and move chains. As a matter of fact you could say that's where he excels.
Inside backer is possible because when your best player at the position is coming off ACL surgery, there is always room for one more on the roster and that is where I have the Texans leaning.
28. Broncos: Tank Carradine DE Florida State
If the Broncos are patient with Carradine, who's coming back from an ACL, they may have a top 10 player from this draft. Carradine is bigger than Elvis Dumervil (now in Baltimore) and Derrick Wolfe/Robert Ayers are the only reliable ends on the roster right now.
29. Patriots: Justin Hunter WR Tennessee
Justin Hunter is a player who falls in the draft because of the drops. Nice speed, great size, but he just lapses consistency.
30. Falcons: Desmond Trufant CB Washington
Brent Grimes and Asante Samuel are both gone. There is a code red situation at corner right now in Atlanta. Someone must be drafted. I'm not sure if they would gamble on a DJ Hayden if available. If anything Atlanta stays true to the board and takes Trufant who is higher on the board than Taylor from Boise.
31. 49ers: Sylvester Williams DT North Carolina
We all saw what happened when Justin Smith got hurt: little brother Aldon was having a hard time wrecking the havoc in the backfield he is usually capable of. Consider that a preview of life after Justin Smith's career is over if you are the 49ers. That can't be appealing which is why the team should stock the shelf in advance. They signed Chiefs bust Glenn Dorsey as a defensive end, but obviously he isn't the long term answer unless something unexpected happens.
32. Ravens: D.J. Swearinger S South Carolina
Surprise! No Te'o! Just too big of a distraction and didn't play well against the talent level of Alabama. Will Te'o be a servicable linebacker? Sure. Will he get picked in the first round? Hmmm… let me think about that.
Swearinger is a player that more and more people in the draft community are talking about. He isn't a guy at the top of the board but his playing style fits right in with a team that has an elite pass rush in place. Swearinger is in the same mold of a Bernard Pollard- tough, physical, maybe a little too fearless. There is no way he makes it to the Ravens in round two, and the pick isn't worth the Te'o circus.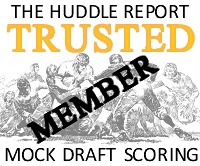 Check out the Old Mocks:
Super Bowl Edition!
Post BCS Draft
Post Season Edition 1
Christmas Edition!
Dec 19 Edition!
December 12-12-12 Edition!
December 6th Edition
Thanksgiving Edition Mock
Nov 2nd
October 22 Edition!
Previous Years:
2012 Mock
2012 Complete Archive
2011 NFL Mock Draft