Concern Grows Over Damontre Moore's Combine Numbers
Updated: February 26, 2013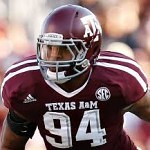 Texas A&M defensive end, Damontre Moore is one of the best defenders in the draft. He has a unique a knack for getting in the backfield, finishing the season with 12.5 sacks down at College Station.
At the combine his numbers were not so impressive. Not that Damontre was expected to blow the combine up but his numbers were unexpectedly low for his position. Here is how he stacked up:
there's been increasing chatter about whether Moore really has all that much talent. Bruce Feldman of CBS notes that there are concerns Moore is too stiff to play well in space, and Moore's numbers at the Combine were not impressive: He managed just 12 reps of 225 pounds on the bench press, with a 4.95-second 40-yard dash. That's not a strength/speed combination you want for an outside linebacker/defensive end, or for any other position, besides maybe kicker.

Full Story at Pro Football Talk: http://profootballtalk.nbcsports.com/2013/02/26/combine-wont-help-damontre-moores-draft-stock/
I wrote about this in our latest mock projection, and I quote "he doesn't have eye popping physical stats, but the knack for getting in the backfield."
I still think Moore goes in the top 15 no question. He might not bench 225 a bunch of times but the guy knows how to sack a quarterback.