T.J. Moe: "Tough To Get Rid Of"
Updated: January 31, 2013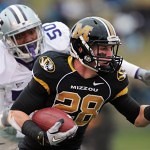 According to former Dallas Cowboys scout Bryan Broaddus, Missouri WR T.J. Moe would be a "hard guy to get rid of if you brought him on your squad." High praise for Moe, who is being projected anywhere from a late round to an undrafted prospect.
Moe didn't put up great numbers during his Junior and Senior seasons, but did have 92 catches as a Sophomore. His production dipping as his career progressed isn't an indictment on him. During his Sophomore season the Tigers had eventual first round pick Blaine Gabbert at QB. Once Gabbert left, James Franklin came in as more of a running threat, hurting Moe's stats.
There have been comparisons of Moe to Rams WR Danny Amendola. Now I'm not sure if that's because of his skin color or because he's a reliable slot guy, but an Amendola type player in the late rounds is great value.
The Patriots would be perfect for Moe with the seemingly endless Wes Welker contract saga continuing on. Moe has quickness, but lacks overall speed or size. With the receiver draft being as deep as it is this season, I don't see Moe being drafted. He'll be snatched up the next day as a undrafted camp invitee.