Manti Te'o Explains Himself to Katie Couric But His Story Still Makes No Sense
Updated: January 23, 2013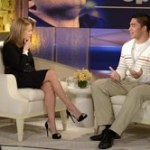 Notre Dame linebacker and top draft prospect Manti Te'o seems to be on the apology tour as of late. A few days ago he sat with Jeremy Schaap of ESPN for an off camera interview and now this Thursday he will sit down with Katie Couric of Good Morning America.
While Te'o is still claiming he had nothing to do with the hoax the more he talks the more questions pop up.
Why did he continue to lead the public on over three months later?
Why did his parents claim they met Lennay in Hawaii only to later say that Manti got stood up?
Who was Manti on the phone with for over 8 hours a day? What is this actress' real name? Who is she in real life?
Why would Ronniah Tuiasosopo wait until January 16th to send Manti an apology via direct message, just conveniently in time for the Jeremy Schapp interview, with Manti's newly appointed lawyer present?
Here is how Mr. Te'o explained himself:
In the brief segment that was aired this morning, Te'o claimed he simply didn't know which way to turn or which direction to go after finding out in early December that what he had known to be true was, in fact, not.

"Katie, put yourself in my situation. I, my whole world told me that she died on Sept. 12. Everybody knew that. This girl, who I committed myself to, died on Sept. 12," Te'o told Couric in the interview that will be broadcast on her syndicated talk show.

"Now I get a phone call on Dec. 6, saying that she's alive and then I'm going be put on national TV two days later. And to ask me about the same question. You know, what would you do?"
If there is anyone that is going to get the real deal best believe it will be Dateline NBC. With the potential ratings over exposing the truth I think Te'o better just come forward and tell us what he has to tell us before one of these investigative reporting programs do….