Manti Te'o Would Like to Be a Baltimore Raven
Updated: February 23, 2013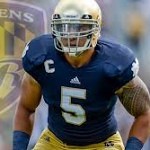 Remember a few days before the Super Bowl TMZ interviewed Baltimore Ravens linebacker Adrian Hamilton, and he said that he would like to see his squad select Manti Te'o in the draft? Well we may be a little bit closer towards that happening.
Today Manti took the time to address the media at the combine and was asked about joining the Ravens. Manti did not hesitate to say that he indeed would like to become a Baltimore Raven. Baltimore owns the 32nd pick in the first round and may have to trade up slightly to get Te'o if they want him.
There is interest on both sides, will it happen?
Manti Te'o says he would be honored to join the Ravens and fill the big shoes left behind by Ray Lewis.

— Baltimore Ravens (@Ravens) February 23, 2013