LSU Trainer Allegedly Posts Note to NFL Scouts Exposing Selfish Players
Apparently a LSU trainer has had enough after watching the Tigers get that work from Clemson. The unknown trainer allegedly posted a note on his door saying that several players were selfish. I have to use the word allegedly because I have no idea if this is true.  Maybe one of you Tigers or former tigers can confirm that the photo is indeed a LSU trainer's door.
However this is NFL Draft "news" and I'll go ahead and report on it anyways.
The note says and I quote:
Attention NFL Scouts:

The following athletes miss workouts and always have an excuse. These men lack self discipline and the motivation to take care of their responsibilities. I will not answer questions regarding their performance numbers or character as they care only about themselves.

Jonah Austin
La'el Collins
James Wright
Spencer Ware
Anthony Johnson
Micah Eugene
Dwayne Thomas
Tharold Simon
Kwon Alexander
Sam Montgomery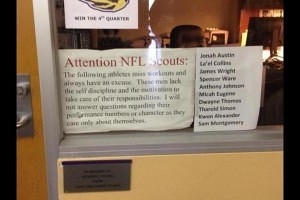 (Click for full size photo)
What do you guys think? Is this real or just someone on twitter trolling for attention?