Is Geno Smith In Your 1st Round Mock Draft Yet?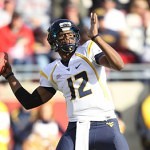 After throwing for 8, that's right, 8 touchdowns Geno Smith's name has risen to the top of the college football ranks. Just a few days ago I published my latest 2013 Mock Draft in which I predicted Smith would finally start to get his just due:
Thanks to a day that seemingly saw a record broken every time he passed the football, West Virginia's Geno Smith has been named the Walter Camp Foundation FBS Offensive Player of the Week for his stunning Week 5 performance. Shattered and/or shattered school and Big 12 marks were littered amongst the 70-63 shootout win over Baylor as the junior completed 45-of-51 passes for 656 yards and eight touchdowns.
Can he rise past the two plus years of Matt Barkley hype?
I doubt it but I do have Smith cemented as a top 10 prospect and he is the number two quarterback on my rankings. Other draft pundits are slowly starting to come around, so by the end of the season I'm sure we'll see Smith high in everyone's rankings.