2013 NFL Draft: Is Landry Jones Stock in the Mid-Rounds?
Updated: October 13, 2012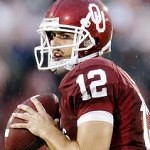 Landry Jones should have went pro. That's pretty much the sentiment everyone seems to hold in the draft circles. There was nothing left to accomplish, several NFL teams with needs at QB and instead of taking the challenge to become a pro early Jones came back to school.
Honorable on one hand, completely crazy on the other.
Blacksportsonline brought this story to my attention in which a NFL Scout says that Jones is destroying his stock game-by-game despite his team's W-L record:
He shows he can do everything we want him to do, he just hasn't shown he can do it consistently in pressure situations. He's great if his team gets a lead early and mixes it up on offense. If they get behind, and he's got to lead them back with a defense pinning their ears back, he struggles.
My take: Landry Jones will be a developmental QB for a team that needs a capable backup. I'm thinking someone like the Jets, Raiders, etc. should take Landry and develop him behind the guys they already have. One day in the future he will probably be a starter but he will need to have some elite talent around him to minimize those perceived faults in his game.