Penn State's Best WR Justin Brown Going to Oklahoma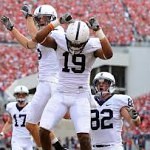 It's a sad situation at Penn State, but I do not blame these kids for transferring. They had nothing to do with Jerry Sandusky's acts nor did they have anything to do with Joe Paterno's coverup of the situation. These kids do not deserve to be penalized for the acts of two grown adults who broke not only the law but the moral code of decent human beings.
With that said, a lot of players have peaced out from Penn State. Rob Bolden is now a LSU Tiger, Silas Redd is a USC Trojan, and now one more joins the list:
As has been rumored for the past several days, wide receiver Justin Brown has decided to leave the Nittany Lions and will play instead this season for Oklahoma. The Sooners were one of the first schools to contact Brown after the sanctions were announced last week and offer him a scholarship.

Brown flew into Oklahoma City Monday night, per a tweet from the player, and was on the practice field with his new Sooner teammates Tuesday morning.