It Doesn't Matter Who is #1 in the Nation Right Now
Updated: September 3, 2012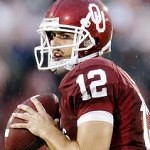 The four letter network is once again trying to conjure up a non-story into front, headline news. "Who is #1 in the Nation?!" has turned into a top debate after just one week of football being played.
The truth of the matter is that LSU, USC, and Oklahoma are all good but they all have to prove something.
LSU needs to prove they have a capable quarterback.
Oklahoma needs to prove they can win the games they are supposed to win *side eye at the Dec 1 TCU game*
USC needs to prove they won't lose a random weekday road game. This years trap is Thursday Oct 4 at Utah.