Update: Madison Police Determine Montee Ball Was Present at Fight Prior to Attack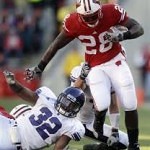 If you have been following this story, Montee Ball was attacked a few days ago five-on-one by a few angry guys in Madison, Wisconsin. He tried to play it as a totally unprovoked attack but police didn't buy it. It just isn't often your STAR football player on campus gets attacked by five guys for no reason.
If only Montee took my advice of sticking to the Fifth Amendment…
Now the Heisman candidate may be in hot water if he gave any false information to authorities (yes, thats illegal). TMZ reports:
"The Madison Police Department, through information developed by detectives, have determined that there was a fight that occurred Friday night (July 27th-28th) which involved UW students, members of the UW football team, and other individuals that were not affiliated with the University of Wisconsin's Athletics Department. We have also determined that Montee Ball was present at the location of that fight, but we have no information that leads us to believe that he had any involvement in that particular event.

"There was one individual that did sustain an injury during the fight, and was subsequently treated at a local hospital for that injury. There is a potential for charges to be pursued, related to the investigated fight, but no charges have been filed. As this investigation is ongoing, specific details outlining the identities of either victims or involved parties are not being released."
Updated Advice to Monty: if you lied, COME CLEAN and play the scared kid card! And if you did ANYTHING illegal to any of those five guys retain a lawyer RIGHT NOW!