Montee Ball Hospitalized After Attack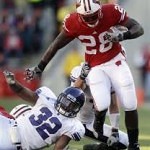 Wisconsin running back Montee Ball was attacked last night in Madison in an unprovoked attack. It is sad that these things still happen, but it goes to show just because you are the big man on campus it doesn't mean that everyone is going to treat you as such. Good thing is that Montee was not seriously harmed. He will be available to start the season for the Badgers.
Here is the police report:
A 21-year old man was attacked while walking in the 500 block of University Ave. early this morning. Witnesses said five men jumped the victim. He was knocked to the ground and kicked. The victim was taken to a hospital with head injuries. It does not appear he knew his attackers and this is being investigated as an unprovoked assault. The criminals were last seen running south on N. Frances St. toward the Kohl Center.