Madison Police Investigating Whether A Fight Preceeded Montee Ball Attack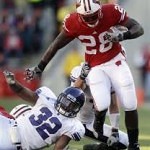 Montee Ball took to twitter yesterday to say that all reports of him fighting before he was attacked five-on-one was false. Madison police are going to investigate anyways. Hopefully the truth comes out in a few days.
Here is the thing, if you are involved in an incident like this chances are there are cameras that recorded you earlier in the night so if Ball did anything it is on camera somewhere. The police know better than to take the word of a football player (with a lot of draft stock to lose).
The first and most important detail was the Ball is going to be okay, but as police look into the situation, there are naturally other components of the story that develop — like motive. The Wisconsin State Journal is reporting that Madison police are looking into a "precipitating event" that may have led to Ball's attack. From the paper:

Central District Capt. Carl Gloede said Thursday police were still trying to find out what that incident was, when and where it happened, what Ball's involvement might have been, and whether other football players were involved.

A witness to the attack on Ball by five men at about 2:15 a.m. in the 500 block of University Avenue said one of the assailants said something like, "One down, nine to go," Gloede said, suggesting others might have been targeted.
Advice to Montee: when in doubt, FIFTH AMENDMENT! DONT SAY SHHHHH