Montee Ball Now Cannot Remember The Events of Night He Was Attacked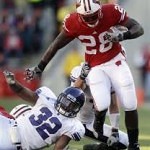 Montee Ball, victim of an "unprovoked" five-on-one assault has now made a statement regarding the incident. At Wisconsin's media day, the running back decided to take a moment to address what happened that night (the police would like to know).
Montee claims:
"I went out with a few friends. We weren't getting rowdy or anything," Ball said. "I was heading right back to my place a block away and I was attacked. That's all I remember."
So Montee is going with the amnesia defense. It is better to just not say anything if you are in any way guilty… I'm sure all of the events that led up to this are on camera. Police just have to find out where the tapes are.