Tyler Bray Cited by Knoxville Police for Throwing Beer Bottles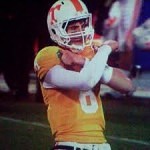 This is not good news for Tyler Bray. As one of the best quarterbacks in college football right now, there is an added spotlight on him this season. Any actions he makes will be highlighted to the max and such is the case when Bray was cited for allegedly throwing beer bottles at parked cars today.
Knoxville Police – Tyler Bray was reported for throwing beer bottles off an apartment complex balcony onto parked vehicles.

— Saturday Down South (@SDS) July 25, 2012
There have already been questions of his maturity poppig up. Is this just an isolated incident or a trend starting to emerge?