Todd McShay Knocks Tyler Bray on Leadership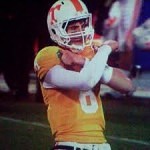 Todd McShay tends to be all over the place when it comes to QB's. Just this past draft he fell in love with Brock Osweiler out of the blue, declaring that my Denver Broncos should have used a first round pick on him. Thankfully, they didn't because there has been documented history of McShay being way off.
See: Is Todd McShay a Quarterback Killer?
Now McShay is bring the bandwagon to the trail of one Tyler Wilson of Arkansas. In the process he took the opportunity to bury Tyler Bray of Tennessee on his leadership qualities via twitter:
UT QB Tyler Bray is far superior to ARK QB Tyler Wilson in size potential, arm strength and most importantly accuracy.

— Todd McShay (@McShay13) July 2, 2012
But Wilson much better leader and tougher on tape.If Bray emerges as leader, learns to hang tough in pocket he's a 1st RD talent…HUGE if's

— Todd McShay (@McShay13) July 2, 2012
I think Bray needs to grow up, which will happen naturally as he is the leader. I see no Ryan Leaf in him. I see a little bit of cockiness like a Tom Brady, minus of course the rings.