Is Todd McShay a Quarterback Killer?
Updated: February 19, 2011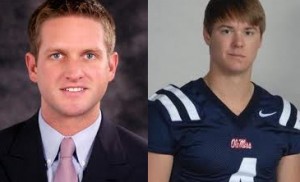 Last night I was extremely bored, and when I get bored I start to research random topics via Google and Yahoo.  Usually those topics include random draft busts, "where are they now" players, and sleepers that no one has never heard off.  While researching whatever happened to Ole Miss' Jevan Snead I came across an article on Yahoo! about Todd McShay and his horrible inability to scout quarterbacks.
The article says, and I quote:
Todd McShay, is considered "a joke" in the league: "McShay does not have any good connections. Higher-ups in the league think he is an arrogant [expletive]. A know-it-all. And he really knows nothing. Whatever he says about a quarterback, take it to the bank, it will be the opposite." Exhibit A is former Kentucky quarterback Andre Woodson, a McShay favorite who went in the sixth round in 2008 and is now out of the league. This year's Woodson, according to PFT's scout: Ole Miss quarterback Jevan Snead,
Wow, just wow.  Not only did McShay's favorite Andre Woodson wash out of the league but just as the article predicted Jevan Snead did as well.  For those that are wondering, Jevan Snead never made it to training camp with the Tampa Bay Buccaneers after being picked up as a undrafted free agent and currently plays for the arena league's Tampa Bay Storm.
This is just a reminder that analysts are not always right and that you should take a lot of what they (even me) say as an opinion and not fact.  Last year McShay argued that Jimmy Clausen would not make it in the NFL while Mel Kiper argued that there is no way he wouldn't.  Given Todd's track record I'm actually excited to see how Clausen improves now, and to see if Cam Newton exceeds McShay's low opinion of him as well.