Penn State Penalized By NCAA Over Sandusky and Paterno Situation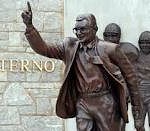 Penn State didn't receive a death penalty. But good luck telling anyone in Happy Valley that. Quite frankly, I think that they should be grateful they still even have a football program.
Here is the thing… yes, Joe Paterno did a ton of good things for the University. Tons of winning seasons, a couple of championships, and built the program into one of the nation's most recognizable brands. However what Joe Paterno didn't do outweighs all of this.
For over 14 years, young men were touched by Jerry Sandusky directly due to Joe Paterno's negligence. That is something I cannot and will not get over. I had a ton of respect for Paterno and all of it is now gone. I hope they never bring back Paterno's statue. Congrats to Bobby Bowden who is now the NCAA's all-time winningest coach due to Penn State being vacated of every win from 1998 through 2011.
That deal included an unprecedented $60 million fine; four-year bowl ban; multiple years of scholarship reductions/roster limits; vacating all wins from 1998-2011; and five years of probation. There has been much consternation coming from the extended Penn State family regarding the appearance that the university simply rolled over for the NCAA.
Hopefully from here the people of the PSU community and the victims can start to heal without the media frenzy.