NCAA Creates "Task Force" to Distribute Penn State's $60 Million Fine
Updated: September 18, 2012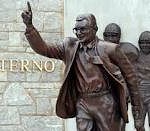 With Jerry Sandusky on his way to jail in the coming days, Penn State is back in the news again. The team is struggling, Joe Paterno's family is mad at the school for defaming his image and the statue is still in a storage somewhere.
As far as the victims go, the NCAA has created a new division dubbed the "task force" to identify where the money should go:
Enter a new NCAA 'task force' to take care of that detail. In a Tuesday release, the NCAA said it was setting up a group of 10 to "develop the philosophy and guidelines for the $60 million endowment… that will benefit external programs for the prevention of child sexual abuse and victim treatment."
I wonder how you apply to be part of the #taskforce?