Penn State Changes Uniforms for 2012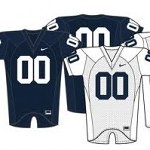 We told you a few days ago that Penn State would be changing it's iconic uniforms as soon as possible to distance itself from the Joe Paterno era. Coach Bill O'Brien has made it a priority and it has been accomplished. Penn State will don slightly new uni's this year.
Here are the two small changes:
According to Philly.com, the new uniforms will feature a blue ribbon and player's last names on the back. The name change was made to encourage each player to remain accountable for his own actions.
Nice touch. Now let's see what they do for the victims.