Matt Barkley Says He Would Have Been Drafted Before Griffin III, and He is Correct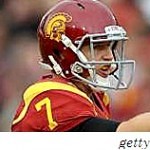 This morning, a conversation broke out on my twitter stream.  Basically, a couple of guys were knocking Tyler Wilson and Matt Barkley saying that both would slide in the upcoming draft.  I really don't know where they are getting this information from considering no games have been played.  But I choose to entertain the conversation regardless.
I tweeted "No way Barkley isnt drafted 1 overall," then as a follow up "The only threat to go #1 over Barkley is if Logan Thomas has a Cam Newton like season".   Two thoughts that I hold strongly.
In terms of pure quarterbacking, not athletics, etc. Matt Barkley is the better prospect over Robert Griffin III.  That's right. Today July 17th, 2012 if there was a draft with both players I would bet my last dollar that Barkley would be drafted ahead of Griffin III.  There is just a more natural feel for passing, anticipation, and the position with Barkley.  That isn't to knock Griffin III.  Though I've never proclaimed Robert Griffin III to be a sure thing, I certainly see the potential.
With all of that said, ironically a story came out today that Barkley feels the same way.  Here are his comments:
"I had confidence that I was going to go high, it wasn't really a question of that as to why I came back," Barkley said. "I think it was a sure bet that Andrew was going to go No. 1."

Asked if he thinks he — not Robert Griffin III — would have gone No. 2 after Luck went No. 1, Barkley said he does.

"I had confidence in that — I think I could have been," Barkley said.
What do you think? Am I crazy? Is Barkley a sure thing? Is Griffin the next Michael Vick mixed with Tom Brady?