Redskins to Part Ways With Robert Griffin III in 2015
Updated: November 30, 2014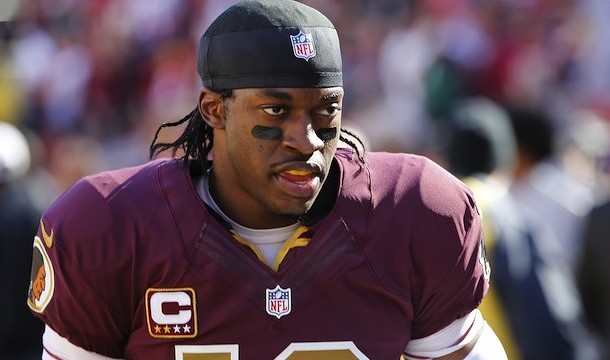 Word is that after the season the Redskins will part ways with their quarterback Robert Griffin III. RG3 has only played 4 games this season for a team that has more problems than the quarterback position. That didn't stop the organization for putting it all on RG because… someone has to be the fall guy.
There are 52 other players on the roster and I hope this serves as a warning for them. If this team can go cold on a "franchise" guy they spent three first round picks to get then they can get rid of you too.
Washington Redskins quarterback Robert Griffin III will not return to the team next season, according to CBS Sports.

After losing his starting job to Colt McCoy, several in the organization believe that the team will part with Griffin after the season. There has reportedly been a growing rift between Griffin and the team that is beyond repair.

It is the second time in two seasons — by two different coaches — that Griffin lost his starting job the final month of the regular season.

After giving up three first-round draft picks to select Griffin No. 2 overall in 2012, the team will likely trade him in the offseason. CBS Sports contacted five evaluators about Griffin, and only one believed the Redskins would get as high as a third-round pick for him.

Griffin has one year left on his contract and will make $3.3 million next year. He has a fifth-year option for 2016 for more than $16 million. Several teams looking for quarterbacks next year could be interested in Griffin, including the Buffalo Bills, Houston Texans, New York Jets, St. Louis Rams and Tampa Bay Buccaneers.

Griffin tore his right ACL and MCL in the playoffs during his rookie season and recently came back from a dislocated ankle. His injury history, decline in production, conflicts with coaches and salary all play a part in his value on the trade market. Some teams assume the Redskins may simply release him.

http://www.msn.com/en-us/sports/nfl/report-redskins-to-part-with-griffin-after-season/ar-BBganqw
Don't get me wrong, RG3 is still a good player but we may never see that player he was in his rookie season again.
RG has struggled due to Mike Shanahan leaving town with the pistol offense and Robert battling multiple injuries. He is still a good player and someone will likely give him a chance to be their starting quarterback next year. This is 2014 and Kyle Orton is starting games after all. Teams like Buffalo, Jacksonville, Oakland, Dallas, hell even Denver would be stupid not to bring in RG3.