Shayne Skov Back At Stanford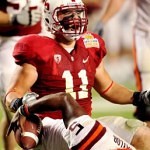 Shayne Skov is one of the top linebackers for the 2013 NFL Draft. He needs to have a really good season. Getting reinstated couldn't have happened sooner enough for him.

Cardinal head coach David Shaw confirmed via a statement Friday afternoon that Skov has been fully reinstated to the Stanford football program. He will, however, have to serve a one-game suspension at the beginning of the new football year as part of the reinstatement process.
Shayne lead the Cardinal in tackles in 2011 and will likely do so in 2012.