2011 Heisman Finalists Announced
Updated: December 6, 2011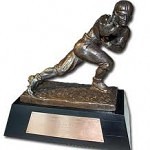 The top players in the nation have been invited to the Downtown Athletic Club for this year's Heisman award. We have seen a ton of players on the Heisman watch, from Brandon Weeden, to Kellen Moore, to Case Keenum but none of those Quarterbacks made it in the end.
A pair of Quarterbacks, two running backs, and a lone corner back will hear their names called on the final Heisman vote. Here are the lucky players who made it this year:
Robert Griffin III, QB Baylor
Montee Ball, RB Wisconsin
Andrew Luck, QB Stanford
Tyrann Mathieu, CB LSU
Trent Richardson, RB Alabama
There are great reasons for each and every player to win this years Heisman.
Robert Griffin III has done the impossible at Baylor, keeping them in the BCS hunt and finishing the year with an impressive last second defeat over Oklahoma. Any QB that wins 9 games at Baylor deserves to be on this list.
Video: Robert Griffin beats Oklahoma with Last Second TD
Montee Ball and Trent Richardson have simply ran over the competition. Though you can argue that Ball has elite blockers in front of him, you cannot deny his 32 touchdowns on the season. Richardson finished up the year strong with a 203 yard performance over Auburn that will stand out in voter's minds as well.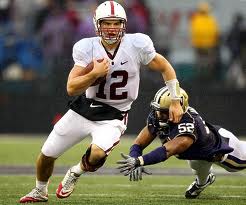 Andrew Luck was in a class of his own and was favored to win the award from the beginning of the season. He hasn't had a true standout game but has played very well, and kept his team in the BCS National Title hunt. His lack of a big "signature win" and losing to #7 Oregon in a nationally televised game will be kinks in his campaign, though the overtime thriller win over USC helps.
Tyrann Mathieu is a player who undoubtedly has been the best defensive player in the nation all season. Though he served a 1 game suspension, he still accounted for 4 touchdowns and has scored every possible way a defender can. The fact that he is the standout player on the #1 LSU defense only strengthens his campaign. All in all, he's played about as well as a defender can play in a Heisman win.
Is Tyrann Mathieu the Best Defensive Player in the Country?
The official prediction: Robert Griffin III QB Baylor.