Brett Favre Would Draft Robert Griffin III Before Andrew Luck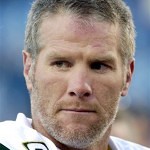 For what it is worth, we have no idea how good an evaluator of talent Brett Favre is. But he did play 20 seasons in the NFL so his opinion holds some weight. No matter how you feel about the "old man's" gunslinger style of playing you can't deny he was one of the top 10 quarterbacks of all time. So with that said, the fact that he prefers Robert Griffin III to Andrew Luck is interesting.
Here is what Favre had to say:
Favre spoke to NFL Network's Deion Sanders on Friday and said he's a Griffin fan.

"Griffin, he's smaller, but if I was starting a team, I'd probably of went with RG3 just because, if they can't protect you, you got to protect yourself," Favre said.