2012 Draft: Age Not a Concern With Brandon Weeden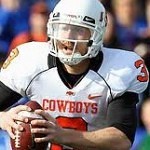 Brandon Weeden is a prospect that is going to make a front office out there look like a bunch of geniuses if he plays the way he is expected to play in the league. At age 28, his draft stock has diminished due to being older. But what does that really have to do with football? If Cam Newton was 27 do you think he still wouldn't have been worth last year's #1 pick?
It's all a crap shoot no matter how young a player is. Especially at the quarterback position where the mental aspect makes or breaks an athlete far faster than athletic talent.
Weeden is not concerned though. He went on the Dan Patrick show to claim he is as good as any 22 year old in the draft:

"I believe so," Weeden said. "I try to tell teams when we're going through the interview deal, 'Treat me like I am 22. Try to go through this process and evaluate me as if I'm a 22-year-old. . . . I don't believe my age should even affect it. Obviously people are out there saying it should, we'll find out in ten days and we'll go from there, but really and truly, 22 or 28 it shouldn't matter. I don't think many people play 20 years in the NFL, but if I can play eight or ten years, that's a pretty good NFL career."

Profootballtalk