Brandon Weeden, Colt McCoy Not Speaking as QB Battle Looms in Cleveland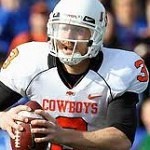 The Browns officially moved on from the Colt McCoy era when they selected former Oklahoma State Cowboy Brandon Weeden with the 22nd pick in the 2012 NFL Draft.  And like that, Colt McCoy was a man scorned.
*tweets McCoy the link to purchase Drake's 'Take Care' on iTunes*
All jokes aside Colt McCoy and Brandon Weeden are not friends and it is looking like they will never be buddies.  The Browns are already openly shopping McCoy and aren't expected to start him any games this year.
On top of that Weeden is making no attempt to speak to Colt according to reports:
In what may be a sign that Weeden and McCoy won't have the friendliest of competitions, Weeden told reporters that he has neither met nor spoken to McCoy — even though they were both at the team facility today.

-Pro Football Talk