Oklahoma's QB Landry Jones to Stay in School for 2012 Season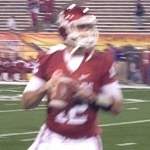 Guess who just finished writing a mock draft with Landry Jones in it 15 minutes ago? And guess who won't be updating said mock today?
This guy.
Anyways, Landry Jones will be returning to school which is good news for Bob Stoops and crew.
#Oklahoma QB Landry Jones (school's all-time leading passer) will return for his senior season

ESPN
The least excited person to hear that news was probably backup QB Blake Bell who has been used pretty much exclusively as a goal line FB this year. That sound you heard was Josh McDaniels falling out his chair. Oklahoma stands to be a National Title contender with Landry Jones returning to man the QB position. Along with Oklahoma you also have to like USC that will have the combination of Robert Woods and Matt Barkley for 2012.
It is very interesting that more and more quarterbacks are choosing to return to school. You have to wonder why? Maybe the new NFL CBA has reduced the immediate financial incentive, and guys are opting to extend their college careers and hone their skills for another year now. That is actually a good trend because it results in much better prospects down the line.
The 2013 draft just got real interesting! Jones, Barkley, Logan Thomas, Tyrann Mathieu, Sammy Watkins… I'm more excited for next year than this year!