Brandon Weeden and Oklahoma State Choke to Iowa State
Updated: November 19, 2011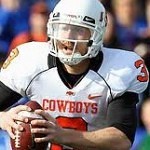 And like that, the BCS has broke again!
Brandon Weeden threw three interceptions as #2 Oklahoma State committed five total turnovers in a loss to Iowa State Friday night.  A lot of people had Weeden as the Heisman front runner mainly due to the fact that his team was undefeated, but all of that is a wash now. Here at Mock Draft HQ Weeden was #2 on our Heisman rankings behind Andrew Luck, and likely that won't change.
As far as the big picture goes, Alabama, Boise State, Oklahoma State, Stanford, and Oklahoma all have a claim to the #2 BCS position now.  It is going to be very interesting how this plays out!