Dominique Davis Breaks Aaron Rodgers NCAA Consecutive Completion Record
Updated: October 23, 2011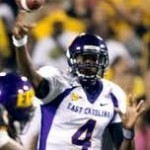 Anytime you break a quarterbacking record set by some guy named Aaron Rodgers you know you are doing something right. That is exactly what ECU's QB Dominique Davis did this Saturday versus Navy. He didn't just break, he shattered Aaron Rodgers' consecutive completion mark.
Davis completed his first 26 passes to set an NCAA record that was previously shared by Tennessee's Tee Martin in 1998 and Cal's Aaron Rodgers in 2004. Both players completed 23 in a row.

Davis also came into the game having completed his final 10 passes against Memphis last week, and his 36 total completed passes in a row also broke Rodgers' mark of 26 consecutive passes spanning two games.
I always thought that Dominique Davis was a "square peg" in the Air Raid offense, especially with the lack of a great receiver. ECU's struggles in the post Skip era can be directly attributed to the fact that most of the players recruited were recruited for the Pro Style offense.
Even though Davis is playing for the Alma Ma, I have to say that Rodgers' mark is still more impressive. You have to remember that Rodgers did it against USC in the peak of their dynasty, and his incompletion came on a pass that he threw away to avoid a sack. It is still an impressive mark nonetheless by Dominique Davis and is something he can hang his hat on for a long time.