Texas A&M QB Jerrod Johnson Selected First in UFL Draft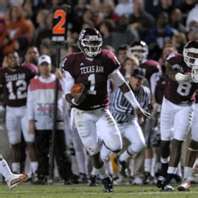 The UFL held its draft this week, apparently through twitter?  I am guessing the UFL budget doesn't have room for radio city music hall yet.  But if the NFL doesn't play this season then things do start becoming very interesting over at the UFL.  It has always been my speculation that the UFL was founded with the goal in mind to be bought out by the NFL as a farm system.  But that's just my speculation as a business man looking from the outside in.
Jerrod Johnson, the dual threat QB from A&M went number one overall in the UFL's  draft. His teammate Von Miller went #2 in the NFL draft.  At one time Johnson was a probable first rounder but his final season at College Station ended with him being replaced by Ryan Tannehill and now possibly going to the UFL.
Other notables from the draft included:
Former UNC DT Ryan Sims drafted 9th overall
Former ECU WR Aundrae Allison going 19th overall
Former Oregon Duck Jeremiah Masoli going 38th overall
click here to see the full 2011 UFL Draft selections