Live Draft Blog: Mark Ingram to Saints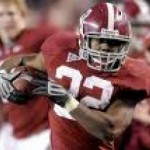 The Saints grab a "tough, tone setting back" in the words of Jon Gruden. If the knee holds up, Ingram will remind the Superdome of Deuce McAllister.  That is a huge compliment.  I always wonder if Ingram can deliver blows in the NFL the way he did in college.  You don't want to end up on the wrong end of those above the waist hits too often.
Did the Patriots just do it again? They traded out of the Clay Matthews spot, and now Mark Ingram…
Mark Ingram working the waterworks over here. Tough, emotional moment to see Ingram break down like that and deliver the message to his Dad.  I still think Leshoure is better, but you can't root against this kid.