Saints to Draft Running Back?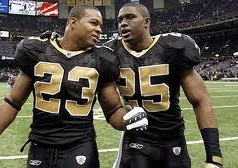 If you saw yesterday's playoff shocker in which Seattle triumped over the defending champion New Orleans Saints, two things were apparent.  The New Orleans Saints defense was near nonexistent, and the Saints badly needed a running back to control the game.
Reggie Bush and Julius Jones were the backs that were active yesterday for the Saints.  Together they managed just 71 yards on 20 carries.  Julius Jones had two goal line touchdowns as well.    To put that in perspective, on the other side of the field Marshawn Lynch had 131 yards on 19 carries… all by himself.
Team leader Christopher Ivory put together a nice season with 700+ rushing yards and was injured for the team's finale.  Without him the Saints just couldn't get into a groove running the ball.  Last year's Super Bowl hero Pierre Thomas has practically missed the entire season as well.
With Thomas' availability up in the air there is a good chance he and Reggie Bush could both end up off the Saints roster in 2011.  Pierre Thomas is coming off injury in a contract year so he will most definitely be a free agent this summer.  Bush is owed $11.3 million in 2011, which is also not expected to be picked up.  He only rushed for 150 yards this season and Christopher Ivory is clearly the better "every down back" out of all four of the Saints backs.
Could the Saints be better off letting Thomas and Bush go and grabbing a back in the draft?  It looks that way.  There sure will be some nice players available.  A team like the Saints that has almost every other position settled on offense can afford to draft two or three runners next year.  Demarco Murry, Mikel Leshoure, Noel Devine (very similar to Bush minus the $11 million contract), Daniel Thomas, Jacquizz Rodgers, and Shane Vereen will all be available in the second round and beyond.
Don't put it past the Saints to evaluate their running back problems and decide its better to clean house.  Sometimes the best additions are by subtraction.