#Trump Supporters Vandalize NFL Player's Home With Slurs #MAGA
Updated: December 9, 2016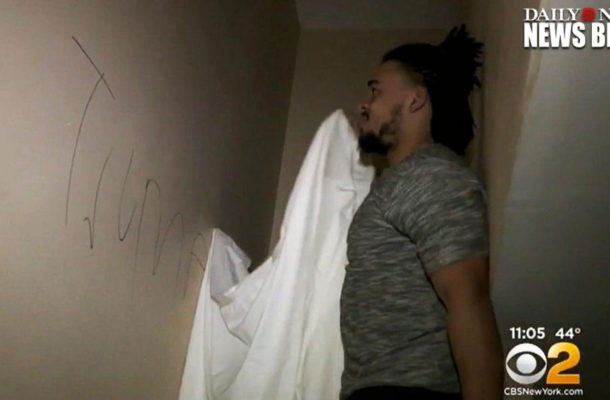 This is what some of us tried to warn you about. Donald Trump, a known twitter troll just won the United States Presidency after running a campaign that was basically a bunch of rhetoric about jobs and keeping brown people down.
Yes, in 2016.
And now waves of hate are sweeping the nation in more incidents that I can even keep up with. The latest involves the Giant's FB having his home vandalized:
Nikita Whitlock can't stop blaming himself for this entire nightmare, for all the racist epithets that now adorn the walls of his Moonachie apartment.

It's his own fault that he and his wife and two children returned to a house that had "Trump" scribbled on one wall and "KKK" and "Go back to Africa" on others. It's Whitlock's own fault, he says, that he became another victim of the wave of hate crimes that's followed Donald Trump's presidential election victory.

He'd made it, he thought, become a member of the Giants, found a house not far from MetLife Stadium in a predominantly white neighborhood and it was now home.

"You feel at home," Whitlock told the News Thursday. "You feel like you know these people. And you get lulled to sleep. That's on me. It won't happen again.

"It is as much my fault as it is anyone's," adds Whitlock, who has spent the season on injured reserve, "because I can't allow myself to be vulnerable, knowing that all it takes is one racist person to be at the house."

Is THIS what it means to "Make America Great Again?" To go back to a time when you could openly assault and intimidate people of color?