Jim Harbaugh Had a "Slumber Party" With a Michigan Recruit
Updated: January 19, 2016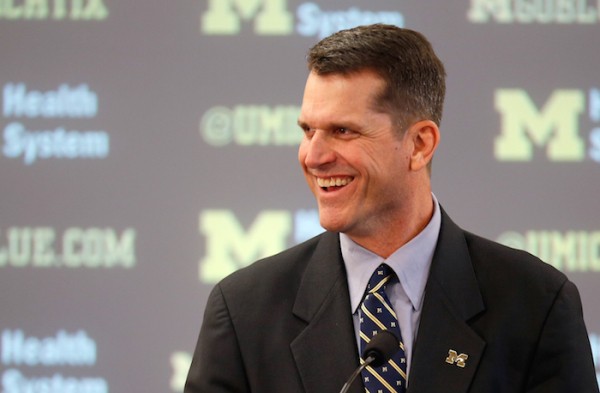 The Michigan Wolverines are headed in the right direction under Jim Harbaugh. With a few top prospects already in Ann Arbour, all Harbaugh needs to do is lock in is another top class or two to bet back to the top of the B1G.
With that said, he's willing to do whatever it takes to get those signatures. Even if it includes having a "slumber party" with recruits' younger siblings.
Here are the details of Harbaugh pulling sitter duty while recruiting current recruit Connor Murphy's older brother:

Eight years ago, when Harbaugh was coach at Stanford, he recruited Connor's brother, Trent, to the Farm.

When Harbaugh made an in-home visit, Murphy's mother thought she was in labor with her daughter. Harbaugh was put on babysitter duty while Murphy's father rushed mom to the hospital.

"Coach Harbaugh sat on my living room floor with me and we drank milk and played chess," Connor Murphy recalled, saying he was 11 or 12 years old at the time.

LA TIMES
Milk, chess, and late night chit-chat? Sounds like something straight out of Ms. Doubtfire to me but I'll let him cook. Hopefully Harbaugh doesn't have to re-up on that milk or offer a rematch this time he visits Connor to get that commitment.