NBA Considering Moving Draft Back to Add Awards Show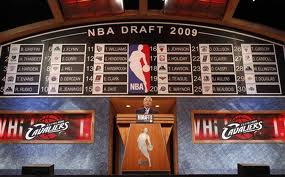 It seems like the NFL isn't the only league that's going to turn its draft into a full blown production. The NBA is currently in talks to do similar to what the NFL has done over the years and really begin to push the draft as its own entity.
Part of this plan will be to give the draft a few more weeks of breather time after the finals and add and awards show. I think this would be awesome, except for the awkward moment when a guy gets and award and then gets traded in the same night.
The NBA Draft might be getting pushed back, as the league is "very interested" in moving it into July in order to promote it better, according to USA Today's Jeff Zillgitt. It could also reportedly be packaged with "a season-ending awards show possibly on consecutive nights."

Moving the draft back will be difficult because it impacts free agency and the collective bargaining agreement. Also, the league needs to negotiate a change in the draft date with its TV partners. The league's TV deal with ESPN/ABC and Turner Sports, the parent company of TNT and NBA TV, expires after the 2015-16 season.

The league is also concerned about delaying free agency and pushing that period even deeper into July. The NBA season is already turning into a long year with the draft, free agency and summer league taking place shortly after the Finals.​

The NBA is negotiating with its television partners, as well as prospective new partners Fox and NBC, and this is a part of those discussions. The league reportedly does not want this to bump free-agent transactions back too far because of this, as August has traditionally been the start of the NBA's quieter period.

Moving the draft back doesn't seem like a crazy idea. It's one of the league's biggest nights of the year, and there's almost no time in between it and the end of the NBA Finals. An awards show sounds a bit unnecessary, though, doesn't it? Does this mean we find out the regular-season MVP more than two months after it's over? I'd like to hear more details about that.
http://www.cbssports.com/nba/eye-on…sted-in-pushing-back-draft-adding-awards-show