2014 NBA Mock Draft 2.0: Embiid's Got a Bad Back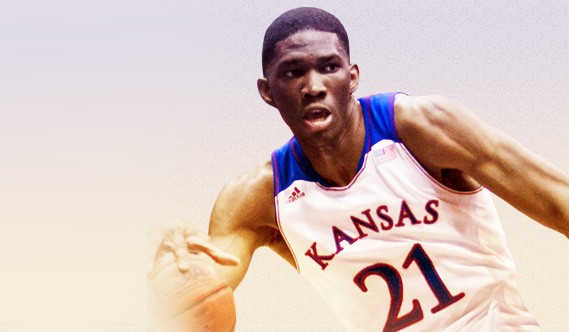 Just a few months ago we had the top three draft picks for 2014's NBA Draft all locked in. Joel Embiid, Jabari Parker, and Andrew Wiggins. Nothing could go wrong… right?

Everything went wrong of course!
Joel Embiid had broken his foot and also having recurring back problems that have pushed his stock down. People are saying he may slip way down to #10 (paging Michael Jordan and Richard Cho!)
Anyways, with that said I decided to throw out just a quick draft, nothing special.
Updated staff picks:
My picks below:
1. Cleveland Cavaliers – Andrew Wiggins
Drew Wiggins is the most athletic player in the draft, a crafty defender, and has the potential to be TMac 2.0. The only question is if his offensive game ever sticks. Not sure how he fits with Jack/Irving/Waiters, but two of those three players won't play 100 more games with this franchise so it doesn't matter.
2. Milwaukee Bucks – Jabari Parker
Jabari wants to be here, and they want him. I expect something to happen with Larry Sanders/OJ Mayo to clear up some of the odd energy on this team but other than that they'll be rebuilding again next year.
3. Philadelphia 76ers – Dante Exum
Michael Carter Williams is getting traded. This is the worst kept secret of the draft. The Sixers aren't winning the 2015 NBA title so it doesn't do them any favors to keep a slightly above average NBA PG (who's already 23) when a 19 year old physical freak like Exum is available.
4. Orlando Magic – Aaron Gordon
*SURPRISE PICK* Many people think he's Baby Shawn Marion which is worthy of this selection on a team that will be rebuilding again in 2015.
5. Utah Jazz – Marcus Smart
What? They can't select Embiid here because they already have too many big men. A guard is needed.
6. Boston Celtics – Joel Embiid
The Celtics will either keep this pick and trade Rondo, or trade the pick and get a veteran to put with Rondo. If they keep the pick and blow it up why not gamble on Embiid?
7. Los Angeles Lakers – Julius Randle
Another team that probably won't keep it's selection. Randle's game has been described as "limited" but I still like him as a double-double guy once he figures the pro game out.
8. Sacramento Kings – Noah Vonleh
There has been much talk of Sacramento trading this pick because they've missed on all the blue chippers. The owner is going to put the pressure on them to compete after seeing how much the Clippers sold for, they have to trade this pick. Vonleh is here for holding purposes. They pick him and auction to the best bidder.
9. Charlotte Hornets – Elfrid Payton
WHA? WHO? This guy is described as the most competitive guy in the draft. He's even rated higher than Marcus Smart on many boards. The Hornets desperately need a scorer to put with Kemba, and you KNOW how MJ loves competitors. The only other guy I see them taking is McDermott for scoring reasons as well, but then what do you do with McRoberts? They're too similar. Payton is the pick.
10. Philadelphia 76ers – Gary Harris
Again, rebuilding and probably going to trade MCW.
11. Denver Nuggets – Dario Saric
Out of the race for a blue chipper and just has to roll the dice on an asset. Even if he doesn't come over the Nuggets can still flip this contract for a veteran to help take the load off the injured Ty Lawson.
12. Orlando Magic – Doug McDermott
Here comes another big man, but a perimeter oriented one, to balance out the Aaron Gordon pick I have above. I think Victor Oladipo gets another season to prove he has the goods at PG and they surround him with bigger guys that can score in different ways.
13. Minnesota Timberwolves – Nik Stauskas
If they trade JJ Barea in the rumored Kevin Love trade then they'll likely draft a replacement to his bench scoring here.
14. Phoenix Suns – James Young
Young has huge potential and played in a similar tempo at Kentucky. He'll love playing with Dragic and Bledsoe. Corner threes alllllll day. All day.