Should the Denver Broncos Draft Teddy Bridgewater?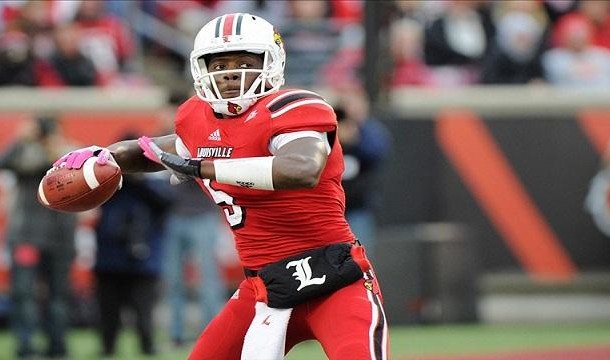 The NFL draft is finally here! This week our writers will be posting their final 2014 mocks as will ya boy. There will be a bunch of surprises in my final mock because due to my research, there are a LOT of smokescreens going on right now. A couple of the players that ESPN are telling us are top 10 picks might not get picked in the top 20!
As you see in the title of this article we are going to focus on one of those players and that is Lousiville's Theodore Bridgewater. A year ago when the Cardinals defeated Florida in the Sugar Bowl he looked like a can't miss prospect, now with a season of missed team expectations and a bizarre pro day his stock is going down.
Allegedly.
Let's say for one second that Teddy is there at 31. Should the Broncos select him? Lots of talk is going on around this very topic in the Denver fan base. Many are on board but the problem is that the Broncos have a QB of the future in place: Brock Osweiler.
Considering the Broncos traded down from the first round in order to obtain the additional second round pick that Osweiler was selected with, he within all intents and purposes a first round pick. Selecting Teddy would say a lot about what the Broncos think about that move.
If the Broncos internally aren't sold on Osweiler they should by all means select a player to compete with him in the first four rounds of this draft. If that man is Teddy Bridgwater I have no problems with it.
Bridgewater is the more accurate passer, just as good if not better a scrambler, and has the uncanny knack of getting better as he gets hit more during the course of a game.
Peyton Manning will probably lace those boots up for the last time in 2014-2015. If the Broncos don't want to fall out of contention fast then by all means getting the heir apparent in place now only makes sense. Is that man Teddy Bridgewater? Or is he Brock Osweiler all along? Only time will tell…