Season Preview: Teddy Bridgewater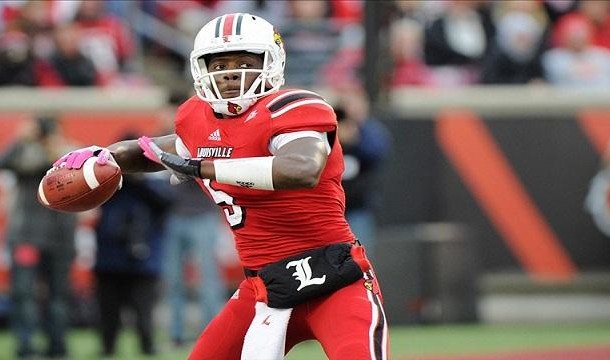 As we head into the 2014 season, one of the most controversial prospects will be Louisville quarterback Teddy Bridgewater. Many believe Bridgewater will be the first passer off the board in the 2014 draft, and we'll see, but for now let's breakdown some of the things we love about his game along with a few areas that need work.
Positives:
At 6'3-6'4 and 218 lbs, Teddy certainly checks the "size" box off pretty quickly. He is around the prototypical size of a pro passer. There won't be any issues brought up about his physical size like there will be about Johnny "Football" Manziel.
The first thing that leaps off the page at you is Teddy's athleticism. He is a smooth, smooth athlete with the football. He will bring up a lot of Vince Young comparisons in that regard though it looks that in-game, Teddy is a shade faster. This is a guy that can easily gash a team for 15-20 yards at a time if he's given a lane.
But what about his passing? Well, he throws for a respectable 68.5% completion percentage and comes from an offense that actually goes down field. These aren't inflated throws at the line of scrimmage (*cough, cough, you know who*). Teddy has a nice spin on the ball and stands tall in the pocket. He isn't afraid of contact and keeps his eyes down-field even when he knows he's going to get hit.
What needs to be worked on:
When he misses throws, he tends to miss long and throw them where his man cannot get a chance to make a play. This is a negative and a positive, actually.
The biggest area of concern I have personally is that he doesn't do a lot of checking off. Meaning that when he decides to go somewhere with the ball, that is where it is going immediately. He's a big fan of the quick underneath throw to his backs within 10 yards. This is great for completion percentage, but in the NFL teams will cover the flats against him and dare him to go down-field.
Where Will Teddy Bridgewater Get Drafted?
I don't foresee a huge drop off such as what happened to Geno Smith and Matt Barkley. Teddy will be picked in the top 10 baring unforeseen circumstances. There is another quarterback I'd personally select over him, today, but I believe he should be no worse than the 2nd quarterback off the board.
Pro Comparison:
I'd compare Teddy most to the current Dolphins quarterback, Ryan Tannehill. Teddy is a guy with all of the tools and the size a team wants, but it may be a rough transition against pro style defenses who will take away his strengths (taking the flats, scrambling ability).