D.J. Swearinger Doing His Best to Get Texans to Draft Jadeveon Clowney
Updated: February 14, 2014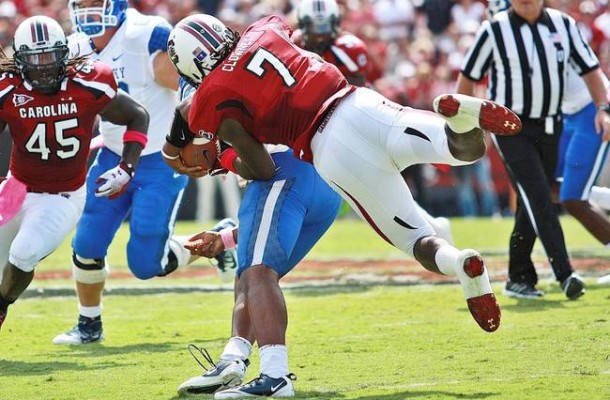 D.J. Swearinger just came off his rookie season out of South Carolina where he was drafted to the Houston Texans. The year didn't go exactly as planned, as the team had the worst record in all of football, but things could be getting better if DJ has his way.
Apparently DJ has kept in contact with his college teammate Jadeveon Clowney and is "going to try his best" to persuade the team to draft the star defensive end.
When Swearinger spoke with Clowney on Wednesday night, the much-discussed prospect delivered the same message he always gives his friend: help me be No. 1.

"He's talking about, 'Man, what's the word?' I'm like, 'I don't know. I'm going to try my best to do what I can to get you here,' " said Swearinger, following a Texans community appearance Thursday at Harvard Elementary.

Texans general manager Rick Smith plans to speak with the second-year safety to ask about Clowney, Swearinger said. If the Texans select the 6-foot-6, 274-pound end — who hopes to break 4.40 in the 40-yard dash at next week's draft combine in Indianapolis — the sight of 2012 NFL defensive player of the year J.J. Watt paired up with Clowney would be a defensive dream come true for Swearinger.

http://blog.chron.com/ultimatetexans/2014/02/clowney-pushing-hard-to-be-texans-no-1-pick-swearinger-says/
While Clowney is obviously the pick that makes sense, you know scouts will not come to a conclusion until every stone is unturned. Teddy Bridgewater and Johnny Manziel also make sense for the quarterback needy Texans, but Clowney just may be too good to pass up.