2014 NFL Combine: News You Missed Pt. 2
Updated: February 23, 2014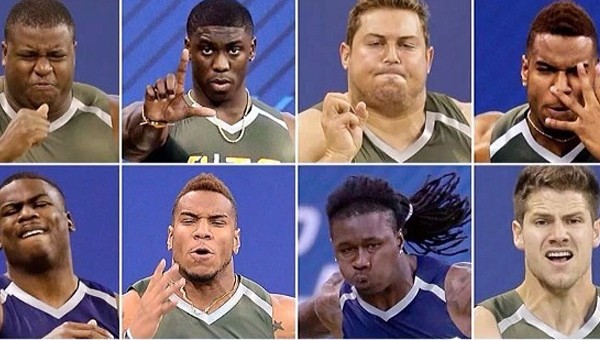 News and notes from Sunday's drills at the 2014 NFL Combine. Let's get you up to speed in case you missed anything.
Jadeveon Clowney only put up 21 reps on the bench press.
De'Anthony Thomas ran an unofficial 4.34 in his first 40 yard dash.
Carlos Hyde ran a 4.66 40 yard dash.
Jordan Lynch's 6.55-second three-cone drill is best in Combine history for a QB (Tim Tebow 6.66 seconds)
Dri Archer ran an OFFICIAL 4.26 40-yard dash. Chris Johnson is still the champ.
Johnny Football ran a 4.56 in the 40-yard dash today. For comparison, that's only 0.01 second slower than Russell Wilson.
37% of fans polled on NFL.com say that Greg Robinson had the best combine so far.
Odell Beckham ran a 4.31
Mike Evans ran a 4.47
Brandin Cooks helped himself more than any other player with a 4.31 40 yard dash and 3.81 shuttle. He also did 16 reps. Could he slide in the first round?
There is some crazy rumor of Sammy Watkins going #1 overall to Houston.