2014 NFL Combine: News You May Have Missed
Updated: February 23, 2014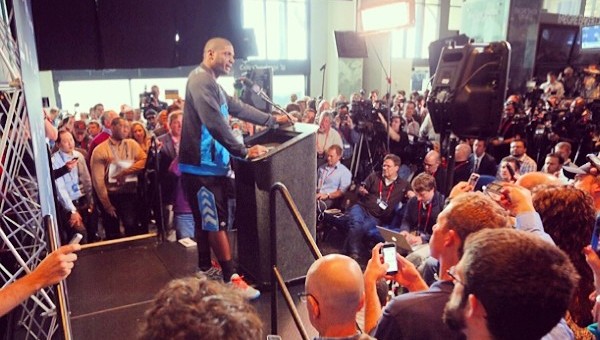 Random news and notes from the 2014 NFL Combine. Just in case you missed anything, we got you all caught up.
Cyrus Kouandjio has an arthritic knee. He is expected to fall into round two now. Is Alabama's system putting too much wear and tear on these kids?
Colt Lyerla looks a lot like Aaron Hernandez in this photo.
Greg Robinson tested insane, running a 4.88 and 4.84 40 yard dash and benching 225 lbs 32 times.
Michael Sam wants to be known as a football player, and no longer "the gay football player." Sudden change of heart on the attention?
Jace Amaro clocked in at a less than respectable 4.74 in the 40, not blazing fast for a tight end anymore.
Eric Ebron ran a 4.6 to compare to Amaro.
Teddy Bridgewater opted out of throwing at the combine.
Taylor Lewan ran a 4.85. These linemen have obviously tested the best of any group in combine history.
Teddy Bridgewater also weighed in at only 214 lbs. In comparison, Johnny Manziel is 5'11 203 lbs.
This is probably the deepest draft class in almost a decade. Mike Mayock predicts there will be 10 starting receivers taken before the third round.
Mike Evans and Kelvin Benjamin came in at a legit 6'5 230 and 240 respectively. Expect a team you'd least expect to draft a receiver to grab one of these guys early. You heard it here first. A team with seemingly no WR need is going to stash one of these big kids.