Scouts: There is No Blue Chip Quarterback in the 2014 Draft Class
Updated: December 31, 2013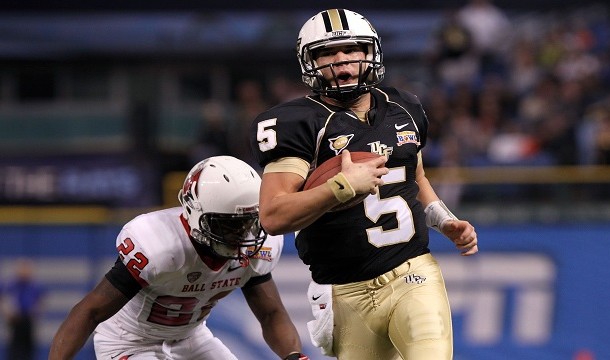 With the NFL and college bowl seasons wrapping up, we are now headed quickly into the best season- draft season. With that are sure to be tales to hype players, disqualify other players, etc.
However a legitimate concern in this year's class is at quarterback. Yes the class is loaded with names- Teddy Bridgewater, Johnny Manziel, Brett Hundley, Blake Bortles, AJ McCarron, Derek Carr, and AJ Murray just to name a few; but is there a can't miss prospect in this bunch? According to reports NFL scouts are starting to whisper that there may not be "that guy" in this year's class.
Jimmy Haslam signing the praises of 2014 @NFL Draft. Had a GM tell me last night it reminds him of the 2011 draft when it comes to QBs. Ouch

— Ian Rapoport (@RapSheet) December 30, 2013
With Peyton Manning, Drew Brees, Aaron Rodgers, Tom Brady, Eli Manning, and Ben Roethlisberger all still playing is there hope for a non blue chip prospect to win a title anytime soon? There is that old guard of championship quarterbacks and an emerging, hungry, younger crop of Cam Newton, Andy Dalton, Robert Griffin III, Russell Wilson, Colin Kaepernick and Andrew Luck all playing at a high level and able to win it any given year as well.
We all know that missing on a quarterback (or just not having a good one) sets a team back, but with the level of talent at the position these days is it even worth it for a team to overdraft a guy just because they need a passer? If you aren't going to win the next Super Bowl anyway, why not just wait for that new guy who can step into the Andrew Luck, Russell Wilson etc. class?
All of these questions and more are what NFL teams are going to have to ask themselves this year. The 2014 NFL Draft will be REALLY interesting as far as quarterbacks go.