2014 NFL Mock Draft: Marcus Mariota #1 Overall?
Updated: October 18, 2013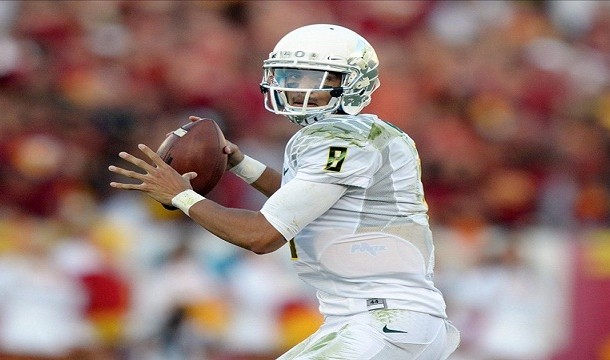 One of the most interesting prospects in the 2014 NFL Draft is Oregon's Quarterback Marcus Mariota.  He is one of the most efficient passers in the nation, a Heisman frontrunner, and one of the best quarterbacks in general.
The only question is where does he go in the draft?
If you notice in our 2014 Mock, we don't have Mariota mentioned. But why?
Before you cry and whine, it is because personally I believe Mariota comes back in 2015 and goes #1 overall then. It's not because I'm throwing shade on his talent. As a matter of fact here is an excerpt from the first article I wrote on him two years ago:
Granted he's a freshman, and not eligible until the 2015 Draft at the earliest but keep an eye on Oregon QB Marcus Mariota.

Yes he plays with insane talent in the backfield. Yes it is one game against Arkansas State. But you cannot deny the accuracy displayed in 18 of 22 passing, with 200 yards, and 3 touchdowns.
So you can imagine I was the least surprised when I saw him go #1 overall in The Big Lead's latest mock. Here is what they had to say:
Right now, I give him the nod over Bridgewater. At 6-foot-4, 210, Mariota is the better athlete, and looks a bit like Colin Kaepernick at times.
I agree that Mariota is a better runner than Bridgewater and very accurate in that system. It's looking like the new improved version of Colin Kaepernick may be here.