Jadeveon Clowney 2014 Scouting Report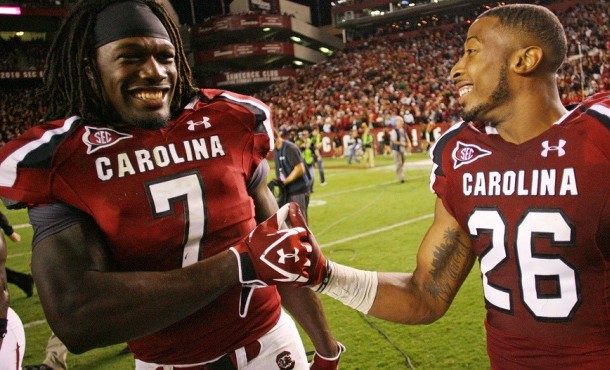 Jadeveon Clowney is one of the best athletes to come through the ranks of college football in a long time. We all know that. But how does he project going to the NFL in the 2014 draft? Let's break it down.
At 6'6 275 lbs. Clowney is a beast. He's a grown man who will play from day one in the league. There are some concerns if he can stay free of injuries but he should be fine.
Pros:
Clowney's elite speed is obviously pro #1. He is a havoc in the backfield and quarterbacks literally cannot avoid him once he's in the kitchen.
Jadeveon plays behind his pads and low to the ground. This is text book form, as they teach players from day one in high school.
Due to his great leverage Clowney is never blocked completely out of pass rushes. Offensive linemen cannot get leverage on him and usually the best option is to double team him which frees up other players on the pass rush.
Cons:
The scary part is that there is still room for Jadeveon to get stronger, even at 275 lbs.  An optimal professional playing weight would be around 285 lbs. which gives him ten more pounds to grow.
Jadeveon is a force in the passing game but is blocked out of running plays as often as most defensive linemen. Teams usually make it a point to run away from him, so shedding blocks quickly with will have to become one of his strong points.
At the time of writing this (2013 off season), he's currently "injured." There are some concerns he will rack up nagging little injuries in a 16 game schedule.
Outlook:
Clowney projects to a yearly Pro Bowl level player. He is the most athletic player since Julius Peppers at his position and will play as such in the league. His speed and athleticism is unmatched in college, which will rise him to the ranks of the top two players taken in 2014.