ProFootballTalk Releases First 2013 Mock NFL Draft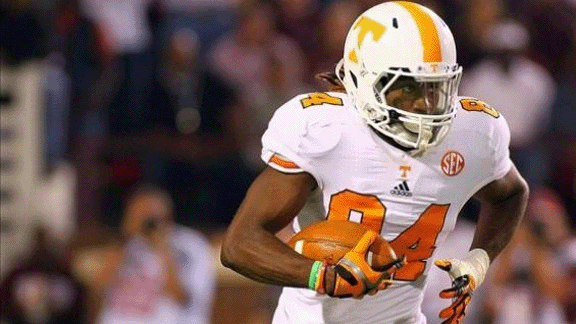 Pro Football Talk has released it's first 2013 Mock NFL Draft and it sure is different. Now the site is a news site and not necessarily a draft site, but they may be projecting some of these picks with some inside information the public isn't privy too yet. Either way I thought it would be fun to break down their draft much like I do Mel Kiper and Todd McShay's.
My thoughts are below each selection:
1. Chiefs: DE Dion Jordan, Oregon.
Doubt it. Jordan is good but over Joeckel? How does this help Alex Smith again?
2. Jaguars: OT Luke Joeckel, Texas A&M.
Makes some sense… then again just about any pick does here.
3. Raiders: DT Sharrif Floyd, Florida.
No problem with this pick.
4. Eagles: DT Sheldon Richardson, Missouri.
Over Star? Hmmm….
5. Lions: CB Desmond Trufant, Washington.
Most mocks don't have him in the top 15 nonetheless top 5…
6. Browns: DE Ziggy Ansah, BYU.
I guess this is okay. Zeek is on fire after the Senior Bowl.
7. Cardinals: DE Barkevious Mingo, LSU.
Nice pick.
8. Bills: QB Matt Barkley, USC.
No problem with it, though why not Geno or Nassib? Barkley's arm strength in the Buffalo winds? Hmmmm…
9. Jets: CB Dee Milliner, Alabama.
Great pick if this happens
10. Titans: OG Chance Warmack, Alabama.
Agreed
11. Chargers: OT Eric Fisher, Central Michigan.
Agree with this pick too.
12. Dolphins: OT Lane Johnson, Oklahoma.
Hard to argue against this as well. Nice little run on OTs.
13. Buccaneers: WR Tavon Austin, West Virginia.
I actually like this pick, though a defender makes more sense.
14. Panthers: DT Star Lotulelei, Utah.
Still think Carolina should go DB here, but not a bad pick.
15. Saints: WR Keenan Allen, California.
Wait… wat?
16. Rams: OG Jonathan Cooper, North Carolina.
Agreed
17. Steelers: RB Eddie Lacy, Alabama.
They need a RB badly but it's hard to see them push the button in round one for one.
18. Cowboys: S Kenny Vaccaro, Texas.
If the Cowboys are lucky Vaccaro will last this long.
19. Giants: DE Bjoern Werner, Florida State.
Wait, how did Werner fall down here?
20. Bears: LB Jarvis Jones, Georgia.
….and how did Jones fall down here? Probably the best player in this draft. No way he lasts to 20.
21. Bengals: DT Sylvester Williams, North Carolina.
Nice pick.
22. Rams (from Redskins): OT D.J. Fluker, Alabama.
I'm a huge Fluker guy, with Long at LT and Fluker at RT this is an excellent pick actually.
23. Vikings: QB Geno Smith, West Virginia.
Doubt this happens. They JUST drafted Ponder. If you are going to replace him then why did you trade Percy who ALLEGEDLY didn't want to play with Ponder?
24. Colts: WR Cordarrelle Patterson, Tennessee.
Patterson's combine alone made it impossible he will last way down here.
25. Vikings (from Seahawks): LB Manti Te'o, Notre Dame.
No argument with this selection.
26. Packers: TE Tyler Eifert, Notre Dame.
Agreed
27. Texans: WR Deandre Hopkins, Clemson.
Not a bad pick. Still like Hopkins, just hard to find a spot for him in the first of my mock.
28. Broncos: S Matt Elam, Florida.
I'd like the Broncos to trade down if they are going for Elam. This is a bit too high for a safety that won't instantly improve the pass defense.
29. Patriots: CB Xavier Rhodes, Florida State.
Great pick…
30. Falcons: DE Cornellius Carradine, Florida State.
No problem with this pick.
31. 49ers: NT John Jenkins, Georgia.
No problem with this either, though I think they take a more versatile d-lineman.
32. Ravens: OT Kyle Long, Oregon.
McKinnie is gone, so OT makes sense. Long is kind of a raw prospect but if Ozzie picked him I wouldn't argue it.