Breaking Down Mel Kiper's First Mock of 2013
Updated: January 17, 2013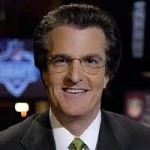 It's that time of year. ESPN analyst Mel Kiper has dropped his first mock draft of 2013. As usual, around this part of the process Kiper usually rates one or two prospects too high before he lets things settle later.
Mel's picks and my comments below:
1. KC – Luke Joeckel
I can agree with this. The Chiefs are not in a position to reach. It's going to be a long rebuild so you might as well draft talent over need.
2. JAX – Damontre Moore
Not sure who else has Moore ranked this highly but he could go top 3 when it's all said and done. A little high for me, but I don't disagree necessarily.
3. OAK – Star Lotulelei
Great pick.
4. PHI – Dee Milliner
I believe I had this pick as well in my latest mock draft. It is time for Philly to get rid of the big money corners and actually draft to build a defense rather than trying to buy one.
5. DET – Jarvis Jones
Agreed. If it plays out like this, Detroit will take Jones who is the highest rated defensive player available.
6. CLE – Bjoern Werner
I can see this happening. No problems with this pick.
7. ARI – Chance Warmack
A guard going seven?!! I can see Warmack going as high as ten to Tennessee but seven? Hmmm… not sure I agree Arizona should do this, but they are kind of screwed with this pick.
8. BUF – Manti Te'o
Yes Manti Te'o might have ALLEGEDLY made up a girlfriend to get Heisman votes, but all of that aside why would Buffalo draft him this high? The whole "Te'o is the best linebacker on planet earth" hype is dead and gone now.
9. NYJ – Barkevious Mingo
Jets fans might get discouraged with this pick but I don't disagree with it. Calvin Pace and Aaron Maybin aren't going to be reliable at all.
10. TEN – Dion Jordan
I could see this pick happening as well. Good job Mel.