Official Super Bowl XLVII Prediction
Updated: February 2, 2013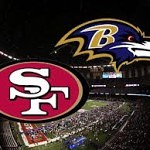 This year's Super Bowl is one of the hardest to predict in quite some time. The two teams at the top of the mountain the San Francisco 49ers and the Baltimore Ravens are almost too similar. Even down to the fact the coaches are brothers and just a year apart in age.
Both teams have tremendous defenses and dynamic offenses which make predicting who is going to win Super Bowl XLVII extremely difficult. I almost don't even want to write this article because every hour or so I find another reason why the other team could take this. However I have settled on an official pick, and here is who I'm taking and why.
When I think of the Super Bowl the first thing I think of is defense and quarterbacking. That usually determines who wins the game. If your quarterback is average, you better be relying on an ELITE group of defenders. Likewise if your defense is average you better have one of the ELITE passers behind center.
The teams in this game mirror each other defensively in my opinion. They have great tackles/ends, Pro Bowl linebackers behind them, and very underrated corners. To me it's really a toss up depending on how you feel about the age of Baltimore's best players.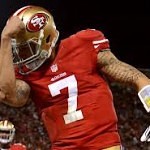 Quarterbacking goes with what kind of offense you believe is going to work. Can Colin Kapernick gash this Ravens defense out the pistol? Can Joe Flacco and Torrey Smith connect on big plays as they did in Denver? Big plays can be manufactured at ANY MOMENT because of the elite skill each passer brings to the game. Colin and his explosive running and Flacco and his strong arm. Once again it's a push.
So what can we go on? What will determine who will win this game?!
Well a man once said, "there are things that man cannot determine." And you know what? I agree with that man.
The big difference between these teams, in my opinion, is the pain factor. One team has simply felt the PAIN of loss too many times. One team has too many players that have gone home in the playoffs too soon, losing to teams they should have beat. That's a lot of summers to let that pain dwell. That's a lot of seasons to feel disappointed. It's simply at the point enough is enough.
It's the same as making a big life change. Either you are going to read books, think about it, take some classes, etc. or you are going to pick up and JUST DO IT (I'm not sponsored by Nike.) The moment in life you are sick and tired of being sick and tired is when a change will happen. Until then you are just wasting time. Pretending. Kind of wanting it. But when the opportunity stands before you, ARE YOU GOING TO TAKE IT? Or just let it slip?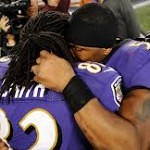 Are you going to leave it all on the field in your last game? Are you going to finally win the Championship you've watched Pittsburgh and New England win MULTIPLE TIMES or are you going to go home and dwell on that sick feeling of loss FOR ANOTHER SUMMER?!
Are you going to let a flavor of the month offense, and a quarterback that's played 10 career games snatch away a game that could cement your LEGACY?
One game. Three hours. Either you are going to do it or you're going to waste time. Which one is it?
Ravens 35 49ers 24.